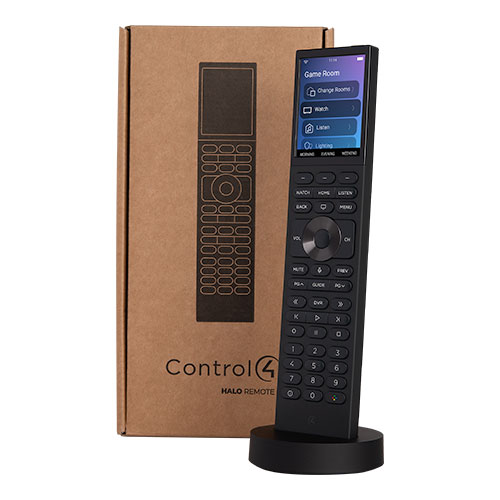 Control4® Halo Remote: C4-HALO-BL
Halo is the new 'everyday' universal smart remote by Control4. The handheld device includes a host of user driven features including a 2.8" color display with a complete set of backlit buttons, voice-control, WiFi 2.4 and 5GHz support, and a redesigned UI with new interaction options. Halo remotes also feature end-user install capabilities. With a generational leap in functionality and a refined design, Halo will redefine the user experience.
Innovative Voice Control with a Dynamic Duo
Gone are the days for old manufacturer's voice remote controls. Halo and Halo Touch feature a new dynamic Voice Button so your customers can control AppleTV and Xfinity devices with the power of their own voice. When Apple TV is the selected source, push-to-talk for Siri. When watching Xfinity, push-to-talk for Xfinity Voice Remote.
Remote with a Personal Touch
The Halo family of remotes offer a premium experience for you and your customers. Custom hard buttons include digital labels for easy identification, and an innovative Color Shortcut Button provides streamlined access to the red, green, blue, and yellow (RGBY) buttons for AV devices. "RGBY" buttons can also be programmed to execute personalized automated scenes.
To help speed up your jobs, we have designed the Halo family to support fast setup and provide at-a-glance troubleshooting information. Your customers can take advantage of the "First Time User Experience" via their smartphone to install their Halo and Halo Touch in minutes. Integration with Composer Pro gives you access to battery-charging data and Wi-Fi connectivity statistics, providing valuable insights on usage so you can optimize the customer experience.
Key Features
Full color 2.8″ non-touch LCD screen
Select media, favorites, automation, and menu options with three hard custom buttons that include digital labels for easy identification
Color shortcut button accesses the red, green, blue, and yellow functionality of media devices and other programming
Capable of media browsing, device control and scene selection for Watch, Listen, Lighting, and Comfort (security, and other experiences coming soon)
Full complement of backlit buttons for easy and intuitive single-handed use in the dark
WiFi Strength increased 3-5x over Neeo and supports both 2.4GHz and 5GHz bands
New Voice button dynamically functions as a Siri Remote for Apple TV or Xfinity Voice Remote for the Xfinity boxes (Xfinity integration coming soon)
Ultra-low power processor with multiple configuration settings