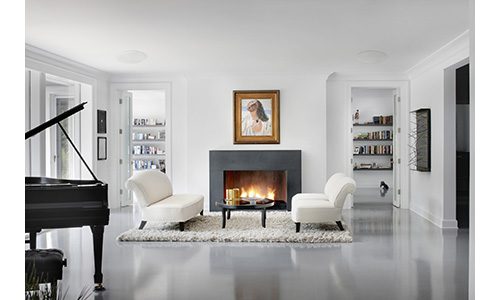 KEF has expanded its Extreme Home Theater architectural speaker range with two new models that are THX Certified: the Ci250RRM-THX, a three-way coaxial speaker with ultra-high performance, and the Ci250RRb-THX, a high-output architectural subwoofer. Both models are designed to provide the immersive sound quality of true theater experiences in large home spaces, making them ideal for homeowners to use for high-performance music and home theater applications within the KEF Extreme Home Theatre line-up.
Extreme Home Theater Speakers Feature Latest KEF Technologies
KEF has recently introduced two new THX Certified models to their range of Extreme Home Theater architectural speakers – the Ci250RRM-THX and the Ci250RRb-THX. The Ci250RRM-THX is KEF's first three-way coaxial architectural speaker with technologies that have been developed by KEF's engineering team in Maidstone, U.K. to deliver the best possible sound. The speaker utilizes KEF's patent-pending technology 'Cavity Radiation Control' to solve the midrange issues found in typical three-way coaxial loudspeakers. It also incorporates an open-backed midrange with acoustically absorptive foam to eliminate midrange distortion up to a 30dB midrange dip.
In addition to this, the Ci250RRM-THX has the 'Low Diffraction LF Aperture' design, which is a carefully profiled, smoothed housing design for the Uni-Q driver array with an outer acoustically absorptive foam ring that reduces resonance and diffraction. This design results in exceptional MF/HF performance while preserving a tremendous bass output. Furthermore, the Ci250RRM-THX is the first KEF architectural speaker with Metamaterial Absorption Technology (MAT), which is a highly complex maze-like structure that absorbs 99% of the unwanted sound from the rear of the tweeter, delivering a more crisp, natural treble performance.
The Ci250RRM-THX features a 250mm (10 inch) bass driver and a 100mm (4 inch) Uni-Q driver array, which is the latest 12th generation and shares many of the technologies found in the latest KEF Blade loudspeaker and the recently launched LS60 Wireless high-fidelity speaker system. The speaker is also a THX Certified Ultra architectural speaker, engineered to deliver immersive, high-fidelity audio experience even in large rooms.
The Ci250RRb-THX, on the other hand, is designed to deliver incredibly accurate and powerful bass while remaining visually discreet. It features a 250mm (10 inch) bass driver with a massive 150oz magnet, making it capable of producing deep, powerful bass when driven by KEF's DSP-equipped KASA500 amplifier. The Ci250RRb-THX is also part of the KEF Extreme Home Theatre line-up, making it ideal for use in a range of room sizes, including large home spaces.