Too often, we yield to a customer's positions that a regular television is suitable for outdoor use. Unfortunately these customers often learn the hard way with product failure and even unsafe conditions. That's why SunBrite TVs are THE solution for outdoor television enjoyment; they are engineered to be left outdoors 24/7 365 days a year.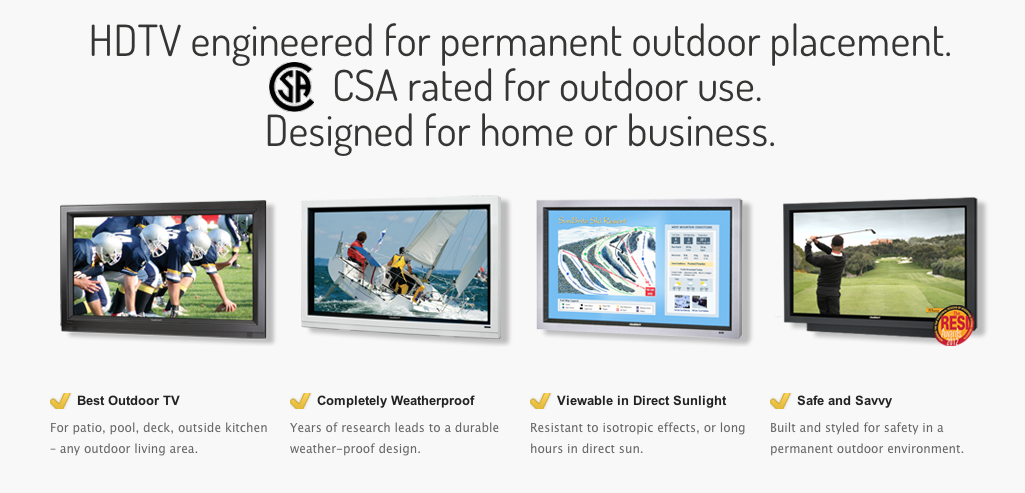 SunBrite TVs are impervious to rain, sleet, snow, dust, humidity, salt air, and even insects. They can function in extreme heat (122 degrees) and cold (-40 degrees). They are designed to be more than TWICE as bright as a regular panel, so seeing them in full daylight is not only possible, but enjoyable!
[embedyt]http://www.youtube.com/watch?v=l0irYcdD_ns[/embedyt]
SunBriteTV designs and engineers the only time-tested TVs in the world that are specifically built from the ground up for the outdoor environment. These true all-weather, outdoor LED-LCD TVs deliver superior brightness, while resisting the harsh effects of rain, dirt, insects, extreme temperatures and UV rays.
All SunBriteTV models are designed, engineered, and assembled in  Thousand Oaks, CA — making SunBriteTV the only consumer brand that actually manufactures televisions in the United States.
SunBriteTV HDTVs have earned a reputation for toughness and durability and have lasted for years in some of the harshest climates in North America. SunBriteTV is the outdoor TV of choice for many professional sports stadiums including: Yankee Stadium, Gillette Stadium, Wrigley Field, Soldier Field, Marlins Park and many others.