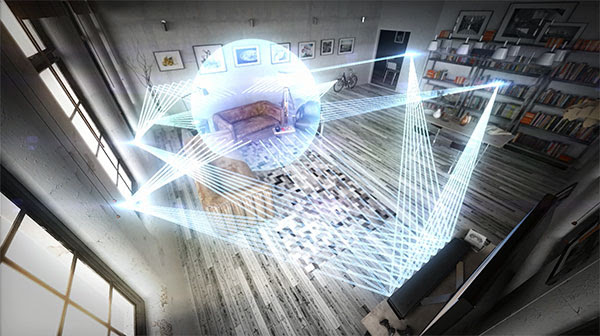 The Yamaha YSP-2500 may look like another sound bar, but inside it is anything but. This incredibly thin member of the YSP (Yamaha Sound Projector) family delivers real 7-channel surround sound while taking up very little room. Using a high-performance processor to precisely control the timing of 16 digital amplifiers and 16 speakers, the YSP-2500 creates controlled "beams" of sound. The sound beams are then aimed — either directly or by reflection off walls — to arrive at your customer's ears from discrete, channel-appropriate directions.The YSP-2500 comes equipped with a wireless subwoofer for easy placement and supports the latest 4K Video and CD formats with THREE HDMI inputs for ease of installation. If you need more than HDMI, the YSP-2500 has you covered with (2) Optical, (1) Digital Coax, (1) Analog Audio, and a surround sound enabled headphone jack!
Installation is a breeze with the YSP-2500 due to the provided auto-calibration microphone. Simply position the microphone in the listening position and run the auto-calibration wizard. This will help ensure the best possible overall surround sound experience for the room.
Your customers will also get the benefit of integrated Bluetooth technology which not only allows for easy playback of music from connected devices, but also control via the "Home Theater Controller" app for iOS and Android. The app allows your customers to control volume, select surround sound modes, switch inputs, and even adjust the beams for an ideal listening experience.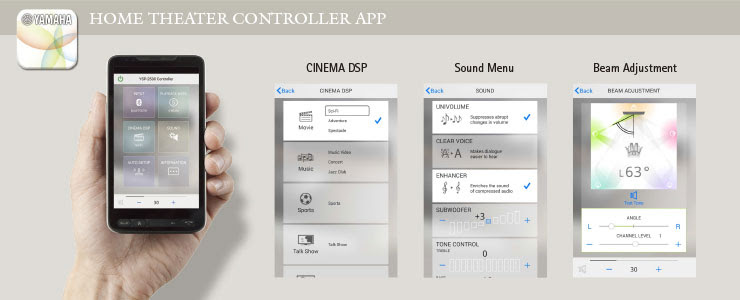 Probably the most incredible thing about the YSP-2500 is that it stands a mere 2-7/8″ tall with feet and ONLY 2″ without. The super-slim design allows you to place it in front of a TV without blocking the viewing area of the screen.